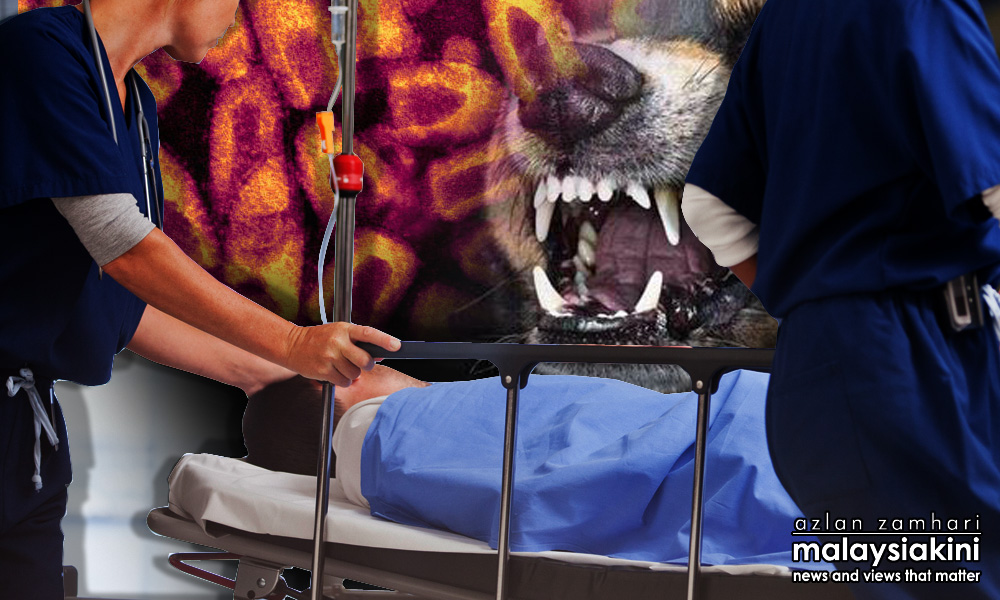 Francis Paul Siah
COMMENT | The fifth rabies victim from Serian died at the Sarawak General Hospital (SGH) on July 23.
Tinding Lambang, 52, from Kampung Remun, succumbed to rabies encephalomyelitis after he was bitten by a dog in early May.
That the deceased was an adult underscores the seriousness of the disease outbreak in the state. Children are normally more vulnerable and according to Mission Rabies, a UK-based NGO, 100 children die from rabies daily, mainly in India and Africa.
Rabies also causes the deaths of around 61,000 people globally every year – the majority of whom are children under 15.
Since the outbreak in Sarawak was detected last month, the first four victims were kampung kids in Serian. According to their parents, they were cheerful everyday village kiddies who love playing with cats and dogs.
In their innocence, children do not recognise a rabies-infected dog when they see one.
Those who love animals and keep them as pets will readily take in a sick dog, even a stray one. Most will not know whether the animal carries a deadly disease or not.
Such is probably the case with the Serian scenario in Sarawak. The four children who died from rabies were bitten by diseased dogs. So was Tinding – only that he was not aware of the seriousness of a dog bite until it was too late.
According to Mission Rabies, over 99% of cases of human rabies are caused by an infected dog bite. Rabies is a viral disease that causes inflammation of the brain in humans and other mammals. Early symptoms can include fever and tingling at the site of exposure. Once symptoms of the disease develop, it is always fatal.
The Sarawak government has declared a rabies alert in the state, and rightly so too. Chief Minister Abang Johari Openg has expressed his grave concern over the outbreak and has directed that it be contained expeditiously. He should and his directive should be carried out swiftly.
The Sarawak Disaster Management Committee, headed by Deputy Chief Minister Douglas Uggah, has also embarked on a large scale rabies vaccination exercise for pets and humans.
The committee also disclosed that 56 new cases of dog bites were reported to the Sarawak Health Department yesterday, comprising 38 cases in Kuching, 14 in Serian and two each in Sri Aman and Samarahan.
Dog bites 
This brings the cumulative number of dog bites reported since April 1 to 1,016 cases.
"A total 41 of these new cases were administered with anti-rabies vaccines. Up to today, a total 624 persons had been vaccinated," it added.
Indeed the rabies situation in Sarawak is more serious than one would think. The numbers, increasing almost daily, are clear.
It must have been years that the state last encountered such an outbreak. One can only hope that the authorities are not ill-prepared to handle the situation. They cannot afford to.
Rabies has already claimed five lives in the state over the past month. One life is already one too many in this case.
According to the Sarawak Medical Department, there are some other patients who are still down with rabies at SGH. Only time can reveal their fate.
What is really sad is that rabies is a preventable disease and a life should not be unnecessarily lost over a mere dog bite.
As the situation worsens, the authorities must go all out to educate the villagers, children in particular, on the dangers posed by diseased animals.
Children must be taught how to recognise a rabies-infected dog and other animals. Unless they are able to do it, they will remain vulnerable.
Rounding up stray dogs and putting the diseased ones to sleep is well and good but there is nothing like being able to distinguish a rabies-infected canine and warning our children to stay away from them.
That should be the paramount strategy of the Sarawak government in their current battle against rabies. – Malaysiakini
---
FRANCIS PAUL SIAH heads the Movement for Change, Sarawak (MoCS) and can be reached at sirsiah@gmail.com.
Read more at https://www.malaysiakini.com/news/390231#AFLTqpBiUeHd6PwH.99