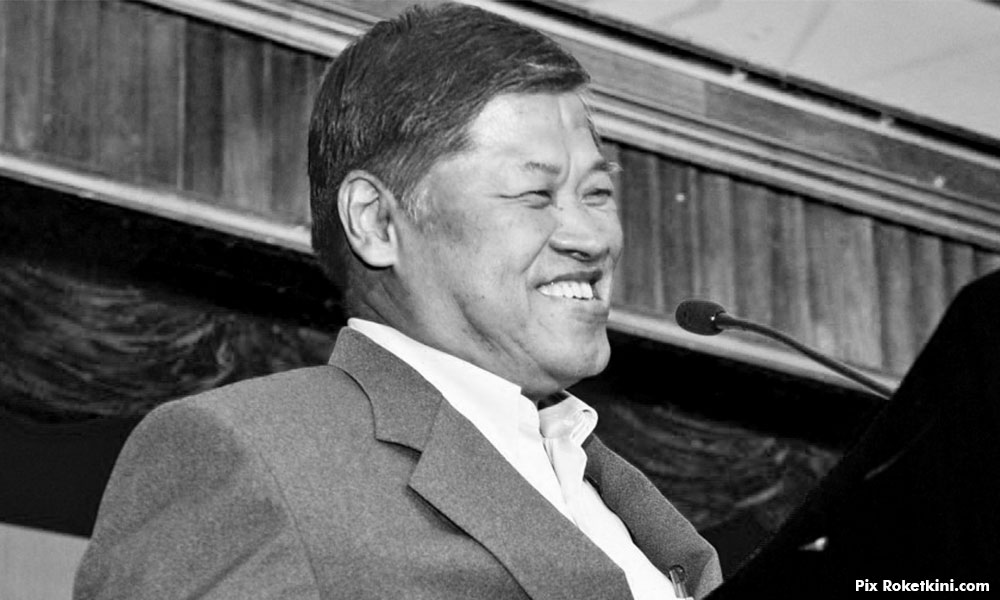 By Francis Paul Siah
OBITUARY  I sat next to Kerk Kim Hock at a fundraising dinner for the Sarawak DAP at Lok Thian Restaurant in downtown Kuching one fine evening in 1999.
Kerk was the secretary-general of the DAP and I was the secretary-general of the State Reform Party (Star).
DAP, PKR and Star were Sarawak allies in Barisan Alternatif (BA). Pakatan Rakyat was not born yet. BA was the opposition alliance formed to fight Barisan Nasional in the 1999 general election.
It was at that dinner during that fine evening 18 years ago that I came to know Kerk Kim Hock – the man, the politician and the fighter.
The dinner-cum-ceramah dragged on for some three hours. There were speeches by DAP leaders like Chong Eng and Wong Sing Nang, who was Sarawak DAP chairman at the time. Even the fiery tones from Lim Kit Siang and the late Star president Dr Patau Rubis did not distract Kerk and me from our deep conversation.
Somehow we clicked that night. We were mere political acquaintances in the past, and had never had the opportunity to engage each other until that evening.
We clicked possibly because we are both "monkeys", born in 1956 in the Year of the Monkey. Never mind that he is five months older than me, we are still monkeys. The fire monkey is said to be ambitious and adventurous and I guess we possess similar traits.
When two politicians sit down for dinner, you can expect them to talk about politics and nothing else. But Kerk and I went further than that. Yes, politics invariably formed part of our conversation but we also discussed family, friends, even God, and other social issues.
I recall him telling me that God, family, and friends were more important than any political position.
"As politicians, we can fight each other like sworn enemies but after that, we must realise that it's only politics.
"Never ever consider or treat your political opponents as long-time adversaries. Believe that your opponents are also in politics to serve the people, only that they choose the path that is different from yours", Kerk told me.
I remember sharing with Kerk how demoralised I was after my electoral defeat in the 1996 state polls but he attempted to lift my spirits by saying that he had had his own share of electoral setbacks, only to bounce back again.
That was true. Kerk lost the Ipoh Timor parliamentary seat in the 1995 general election, but in the 1999 polls, he won Kota Melaka and was back in Parliament.
Kerk was a mild-mannered man who trod with caution, choosing his words carefully, when it came to criticising political opponents.
As the DAP secretary-general, Kerk was given the honour of being the final speaker that night. Never once did he lambast Abdul Taib Mahmud, the Sarawak chief minister then.
Taib was the main target of the opposition but Kerk chose to ignore personal attacks and instead highlighted the mistakes and unjust economic policies of the Sarawak government which had caused so much hardship to the people.
That was Kerk Kim Hock. He was a good orator too, in the mould of former Sarawak DAP stalwart Sim Kwang Yang. Both were articulate and fluent in English, Bahasa Malaysia and Mandarin. You need to be good in all three languages to be an effective politician in this country, more so if you are in the opposition.
Lim Guan Eng is right. Kerk made friends easily and had very few foes. He was that rare Malaysian politician who was well-liked. Kerk always sought to win over his opponents. He carried that trait of likeability into politics.
It was unfortunate that in later years, I did not have much contact with Kerk. I was in and out of Sarawak over the years, and Kerk seemed to have faded away from politics.
However, in one of his emails, he mentioned to me that he was not in the best of health and was battling cancer.
I met him a few times again in between 2004 and 2009 and was glad to see that he was getting better.
Guan Eng mentioned that Kerk told him that he would fight to live up to 70 but the One Above decided otherwise.
Kerk was only 61 when he passed away yesterday.
Farewell, my fellow "monkey" Kerk Kim Hock. I was blessed to have known you as a fellow politician but more importantly as a genuine and well-meaning friend.
I will always treasure that evening in Kuching in 1999 when we shared so much of what was inside us.
Rest well now, Brother Kerk.
---
FRANCIS PAUL SIAH heads the Movement for Change, Sarawak (MoCS) and can be reached at sirsiah@gmail.com.