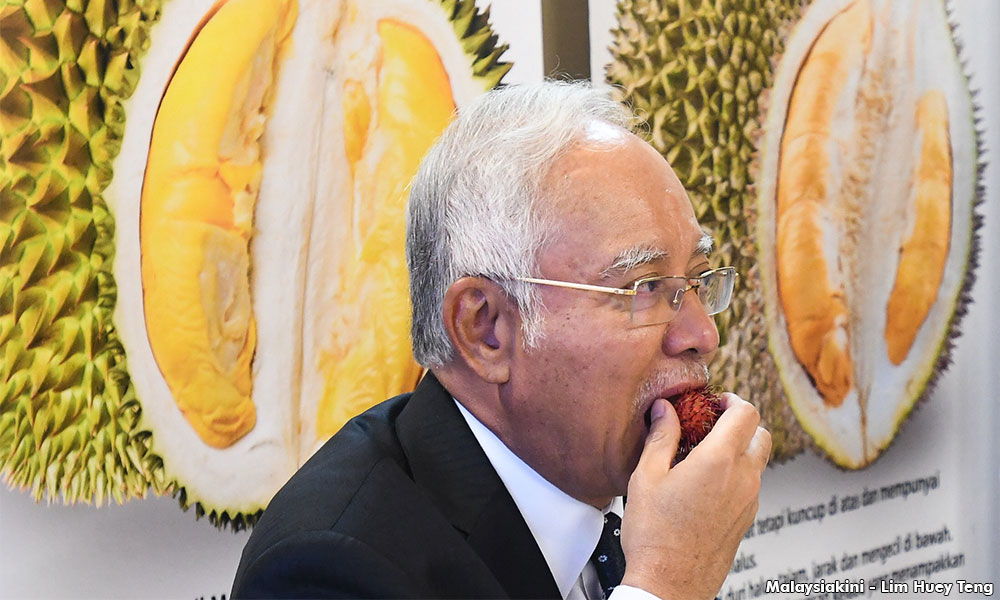 Prime Minister Najib Abdul Razak today proclaimed himself as the one responsible for getting the national fruit, durian exported to China.
In his speech at the National Farmers and Fishermen's Day in Serdang today, Najib recounted a previous visit to Chow Kit, which saw durian being sold for RM1 per fruit.
"But today, the 'musang king' durian is sold for more than RM100 per kilogramme because we have opened a new market in China.
"I want to tell all of you here, that I was the one responsible for getting permission for durian to be exported to China," he said.
Najib cited meetings with top leaders in China that saw him asking for durian to be given permission to be imported into China.
"This has led to many durian entrepreneurs exporting durian to China."
Najib said an entrepreneur told him during a recent programme organised by the International Trade and Industry Ministry that he did not have enough supply due to the high demand.
"This is why we have to have a global strategy. We cannot just sell our goods at markets one or two kilometres away from our homes.
"We must ensure that the global market is a market for all of us," he said.
Najib added that farmers and fishermen alike would only benefit if they became part of the global supply chain.
"It is because of this that we create ties with global economic powers.
"I believe that this will improve the agriculture sector. Apart from 'musang king', I want to see other plantations (succeed).
Ending his speech, Najib announced a one-off allocation worth RM7 million for one million farmers and fishermen nationwide.
From RM1.57 million worth of durian exports to China in 2012, exports jumped to RM18.02 million last year.
The export target for this year is RM23.4 million and it is expected to rise to RM92.5 million by 2020. – Malaysiakini