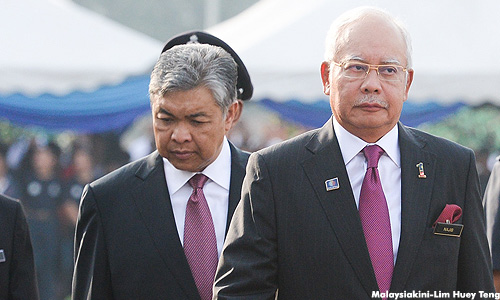 The High Court in Kuala Lumpur instructed Prime Minister Najib Abdul Razak and his deputy Ahmad Zahid Hamidi to file their defence in Khairuddin Abu Hassan's suit over violating their oaths of office.
The direction was made by High Court deputy registrar M Pavani following case management today.
Pavani also instructed Najib and Zahid to file their applications to strike out the suit, should they choose to do so, before Nov 10.
The case management will be heard before High Court judge Ahmad Zaidee Ibrahim on Nov 15.
Khairuddin was represented by Syed Iskandar Syed Jaafar Al Mahdzar, while the prime minister and his deputy were represented by Yazid Mustaqim.
According to Syed Iskandar, when contacted by Malaysiakini, Yazid informed the deputy registrar that his firm had not received any instruction from Najib or Zahid to file a striking out application.
Khairuddin filed the lawsuit against the prime minister and his deputy last month for allegedly violating their constitutional oaths to the Yang di-Pertuan Agong in misleading the public over the origin of the US$681 million (RM2.6 billion).
The former Batu Kawan Umno vice-chief is seeking a court declaration that Najib and Zahid had violated their oaths under the Sixth Schedule of the Federal Constitution, and therefore were unfit to hold their respective posts or any position in the cabinet.
Khairuddin claimed that he has locus standii to initiate the suit, since the litigation is in public interest.
"Upon taking their oaths, they became trustees of their offices under public law and under a duty not to misrepresent the facts or to mislead Malaysians or lie to them on material issues," he had said.
Khairuddin, in his statement of claim, alleged that sometime in March 2013, a sum of US$681 million from 1MDB was deposited into Najib's accounts. However, the PM had on various occasions said the money came from an Arab donor.
Khairuddin alleged that Najib's statement was false as the money came from Tanore Corporation Finance, a company controlled by Low Thaek Jho, who is Najib's agent.
"Having uttered the aforesaid falsehood, Najib stands in violation of the solemn oath that he took. He has accordingly, acted in breach of trust reposed in him by Malaysian citizens, and is unfit to hold the high office of PM, and the Cabinet, as established under Article 43 of the Federal Constitution," the statement of claim read.
As for the deputy prime minister, Khairuddin claimed that Zahid had told the Dewan Rakyat sometime in August 2015, that he had met the aforementioned Arab donor or donors over the sum involved, and hence had misled the house and the Malaysian public. – Malaysiakini