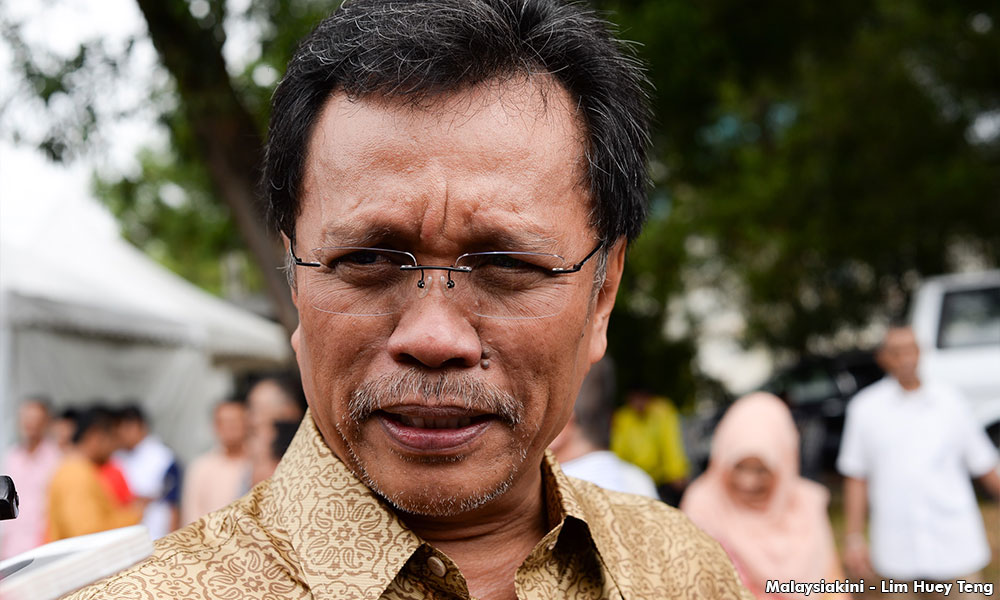 By Francis Paul Siah 
COMMENT | The Pakatan Harapan leadership must bear one important thing in mind when handling Sabah – the leaders of local parties in the state are not nobodies.
One is a former chief minister, another a former deputy chief minister, one is a former Umno vice-president while two are former deputy federal ministers.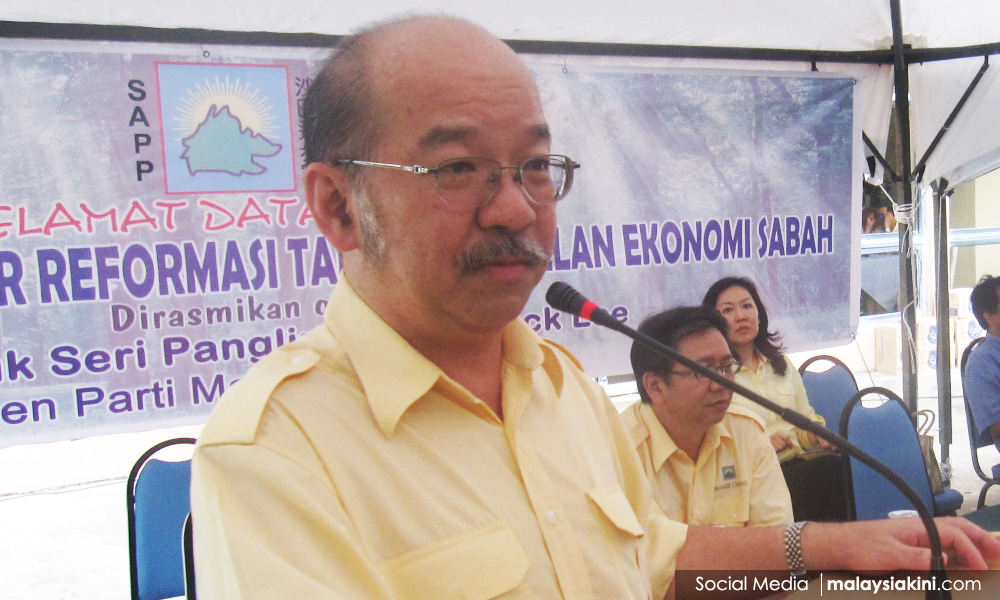 Sabah Progressive Party's Yong Teck Lee (photo) served as chief minister in the mid-1990s, Parti Cinta Sabah's Wilfred Bumburing was deputy CM in the Parti Bersatu Sabah government, Warisan's Mohd Shafie Apdal was a former federal minister, while State Reform Party's Jeffrey Kitingan and Sabah People's Hope Party's Lajim Ukin served as deputy federal ministers.
image: https://i.malaysiakini.com/1158/d89da1c77242812bc2bf04888d2ca0a2.jpeg
Except for Yong, all are still serving elected representatives, and all are in the opposition camp in the state. And none are pushovers – this is what Harapan has to keep in mind.
This is why I must tell Harapan today, show more respect for Sabah parties and their leaders.
In the scramble for seats come GE14, don't get greedy. Allow the local opposition parties to contest more seats in the state and concentrate on your own weak areas in the peninsula.
Perhaps, Harapan could just concentrate on a few parliamentary seats in Sabah and help the local parties in the state seats. This is something they could work on.
After all, isn't the objective of Harapan and the Sabah parties similar? That is to defeat Umno-BN and end its dominance in Sabah politics?
A tall order indeed, but that doesn't mean it is impossible.
The strategy for Harapan will be a withdrawal from one battle to win the ultimate war, with Sabah as the deciding factor.
The coalition's chairperson Dr Mahathir Mohamad has talked about Plan B, Plan C to defeat Prime Minister Najib Abdul Razak and BN.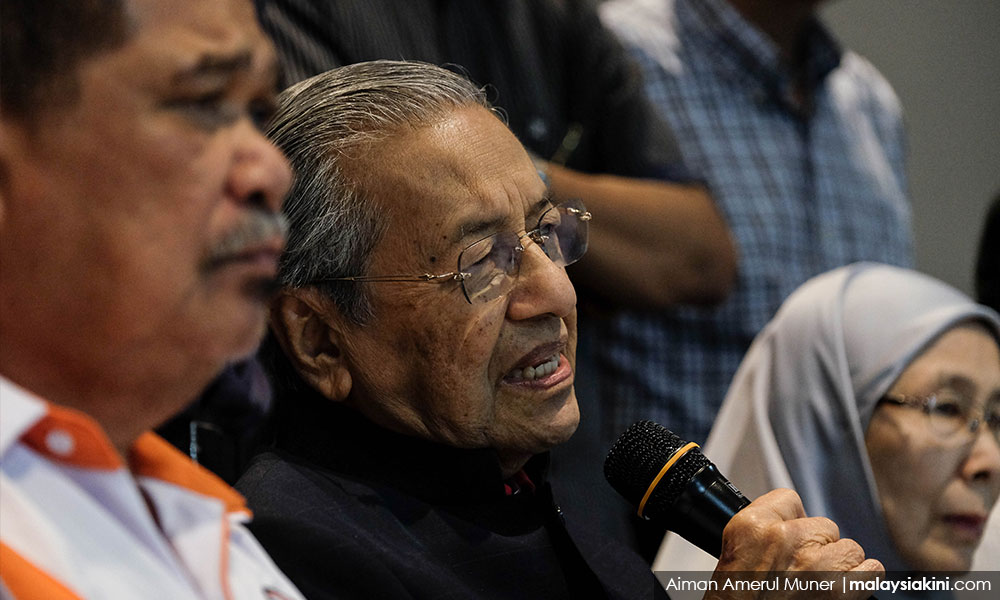 Sabah could well be Harapan's Plan D.
If one were to read the pulse on the ground in Sabah, support for Umno-BN is at its lowest ebb, no thanks to the self-destruction that big brother Umno has wrought on itself, which has also wounded its already frail BN coalition partners MCA, MIC and Gerakan.
MCA and Gerakan are perceived as mere window-dressing in Sabah, while MIC is practically nonexistent in the state.
Joseph Pairin Kitingan's PBS might be seen as BN's strongest ally in Sabah, but anything could happen between now and next August, before which GE14 must be called.
Pairin has already put his retirement plan in place and his anointed successor, Maximus Ongkili, is not made of "Kitingan material." Ongkili is certainly no "Huguan Siou" or paramount chief of the Kadazandusuns.
In Sarawak, I believe that BN should still pull through and get to keep 26 out of the 31 parliamentary seats. BN's rural fortresses should still be able to withstand Harapan's bombardment, and BN candidates could just scrape through, though with much-reduced majorities in some areas, due to the absence of the "Adenan factor."
That leaves Sabah – the real kingmaker in GE14, with 25 parliamentary seats at stake.
There is a real chance that the Umno-BN titanic could hit its iceberg in the Land below the Wind.
The United Sabah Alliance (USA) formed by the local opposition parties with Shafie's Warisan are more than capable to take on Umno-BN.Local pundits are optimistic of their chances if Harapan parties do not enter the fray and take the winds out of their sails.
The groundswell is strong, and Sabahans look ready to pull the rug from under Najib's feet, with the fervour and strong patriotic sentiments running high.
They have done it before – Berjaya and PBS were bitter successes which BN found hard to swallow.
Sabah voters are so unpredictable, and with a stronger opposition alliance this time, Sabahans' "notorious" history of voting out a government might just repeat itself.
With resources spread thin over a large battleground, it makes sense for Harapan to form an alliance with USA and Warisan.
A gracious withdrawal from the Sabah battleground in the pursuit of a common victory for the allies should be on Harapan's main agenda in the East Malaysian state.
This will give Harapan a moral victory and win the hearts and minds of Sabahans – that it presents a genuinely better option than Umno-BN in their "Sabah for Sabahans" roadmap.
The question is: will the Pakatan leadership be magnanimous enough to withdraw from Sabah, consolidate its resources on the home front in Malaya, help its Sabah allies instead and prepare for the mother of all battles to win the war?
D-Day beckons, and sometimes victory can be achieved by moving one step back in order to move two steps forward.
Therein lies the realistic hope of victory for Harapan – by not being overly greedy in Sabah and respecting its local allies in the state.
Its goal is not just to capture Sabah but the bigger prize – Malaysia.
I believe that Sabahans are waiting anxiously for Harapan to come up with a realistic, workable strategy and a wise decision on how to overthrow the BN government in their state.
Many have opined that Sabah is the opposition's to lose. I concur.
FRANCIS PAUL SIAH heads the Movement for Change, Sarawak (MoCS) and can be reached at sirsiah@gmail.com
The views expressed here are those of the author/contributor and do not necessarily represent the views of Malaysiakini.