Cries of "Hidup Tun!" (Long live, Mahathir!) rang out in the hall of Ideal Convention Centre in Shah Alam where the Pakatan Harapan convention was held after Bersatu chairperson Dr Mahathir Mohamad was formally named the coalitions' prime ministerial candidate.
The crowd immediately jumped to their feet as soon as Harapan chief secretary Saifuddin Abdullah made the annoucement.
The chants steadily grew louder as the crowd applauded him. Other Harapan leaders were also seen surrounding Mahathir as they joined in the applause.
Mahathir, clad in his red Bersatu uniform with a burgundy jacket and seated in the front row, initially remained seated but soon stood to face the crowd. He then took a bow at them.
His wife Siti Hasmah Mohd Ali turned teary and held a tissue up to her nose.
She was seen looking down in an apparent attempt to hide her emotional reaction.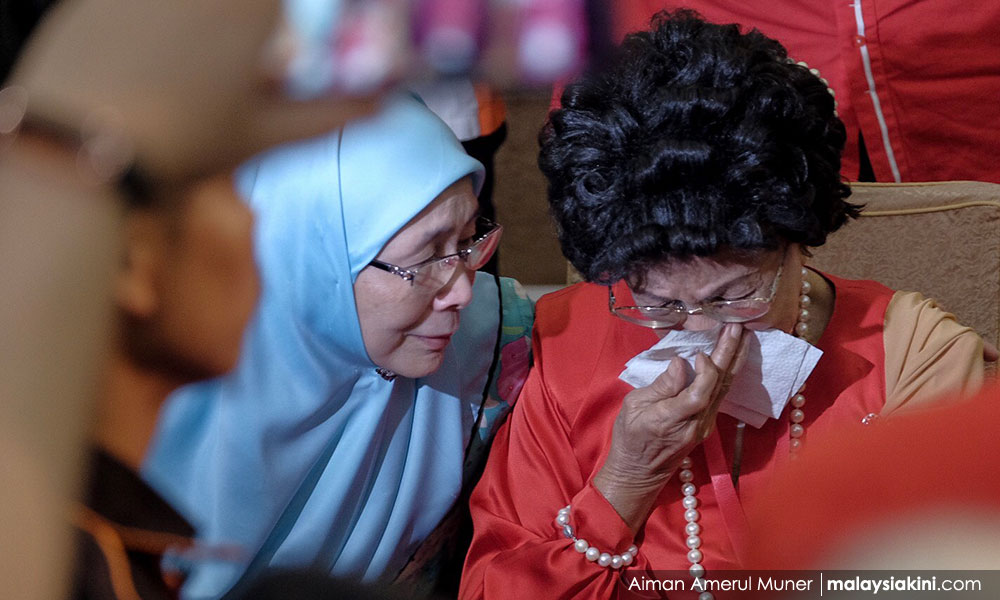 PKR president Wan Azizah Wan Ismail, seated next to Siti Hasmah, tried to console her but also broke into tears.
There was also a moment of emotion for Mahathir, who appeared to choke up as he retook his seat.
Shortly after, Saifuddin also announced Wan Azizah as Harapan's deputy prime ministerial candidate but she continued to console the teary Siti Hasmah.
Wan Azizah later stood up and also took a bow in front of the crowd.
The chants quickly morphed into "reformasi" and the crowd continued to applaud.
The electric atmosphere prompted secretariat members to urge the crowd to calm down in order for Saifuddin to finish his announcement.
Saifuddin later also announced that if Harapan were to win, the new government will immediately seek a royal pardon for PKR de facto leader Anwar Ibrahim and set the path for him to succeed Mahathir.