By Francis Paul Siah
COMMENT | Rafizi Ramli emailed me a 'thank you' note the very same day my article, 'Why I'm impressed with Rafizi Ramli', was published in Malaysiakini on March 13.
The Pandan MP, whom I do not know personally, wrote: "Hi Francis. Thanks for your kind words in Malaysiakini. Very rarely people write so glowingly about me kah3. I am not the type who pays attention to flattery, but yours was not. It was kindness on your part and for that, I appreciate it so much."
Well, that was thoughtful on Rafizi's part. He took the trouble to send a 'thank you' note, even to a stranger. I have never met the young MP.
I believe Ambiga Sreenevasan, like Rafizi, is not one to pay much attention to flattery too. I am not about to flatter Ambiga here nor to glorify her. Ambiga and Rafizi are two public figures who are above personal glorification. Certainly, they are not egoistic. That much I dare say.
I observe people from afar these days – notably political leaders and civil society leaders. I've also learnt to be inconspicuous if I intend to do that, and with a certain degree of success.
You see, when you praise those, either in speech or in writing, whom you do not know or hardly know, people will have little or no reason to criticise you.
Hence, I do not keep company with big shots, unlike in the past. Granted, I do have several political leaders, including Sarawak ministers, as friends on WhatsApp and that's about it.
In observing people, I've also learnt that their immediate reactions to different situations can be giveaways as to their true thoughts and feelings. But what I really look for are humility, decency, trustworthiness, wisdom and leadership qualities, especially if one is aiming for public office.
In Ambiga Sreenevasan, I see a woman who is humble, bright and above all, trustworthy. She is also able to articulate her thoughts well. Her messages are generally well received, perhaps even by her detractors.
Ambiga is a much-lauded civil society leader today because she cares for her country and fellow Malaysians. Although not a politician, she joined the Pakatan Harapan ceramah circuit occasionally, declaring that she was on the side of those who earnestly wanted to see a better Malaysia.
Mind you, a blind follower Ambiga is not. In the past, she has held differing views with even opposition leader Anwar Ibrahim on certain issues and she was not afraid to speak her mind. She is a woman who is not intimidated by powerful men. That is the strength of a real leader. Why, I think Ambiga could even handle US President Donald Trump.
Unlike Rafizi, I do know Ambiga personally. She was the Bersih chairperson from 2011 to 2013. The Movement for Change, Sarawak (MoCS) which I head is an endorsee NGO of Bersih. I used to attend Bersih meetings chaired by Ambiga and I once accompanied her to submit a memo to Suhakam.
Of course, I was also grateful to Ambiga when she publicly supported a "Red Rally" organised by MoCS in Kuching in 2011.
When she announced her decision to step down as Bersih chair in 2013, I recall her saying "Two years is enough. No one should lead Bersih for more than two years."
I supported her decision then on the 'two-year' term for the Bersih chair. That Ambiga was prepared to voluntarily let go of her position as the leader of the nation's biggest civil society movement proved that she was an unambitious and unselfish leader.
Ambiga as AG?
Now that Maria Chin Abdullah has quit as Bersih chairperson to enter politics, I sincerely hope my fellow Bersih endorsees would reconsider Ambiga's proposal. Bersih is a people's movement and should not be the domain of any individual leader.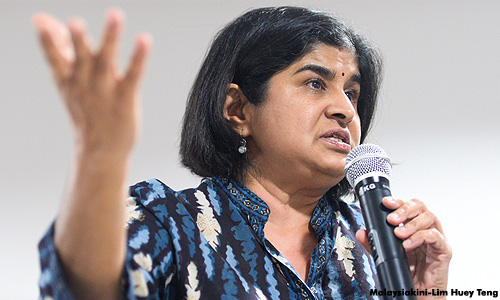 While many might not be able to accept Ambiga's decision not to contest GE14, I think we have to respect her personal wish.
But that does not mean she has no political role to play. In fact, I see Ambiga taking on a more important role in the political arena, even without an elected public office, should Harapan attain power.
There is nothing to prevent her from being appointed senator and taking charge of a new Justice Ministry. Or she could be appointed an adviser to the government with ministerial status. And Ambiga as the attorney-general, why not?
For those unfamiliar with Ambiga, this little write-up about her and her legal firm, might help.
Ambiga, a founding partner of Sreenevasan Advocates and Solicitors was called to the Bar of England & Wales in 1980. She was admitted as an Advocate & Solicitor of the High Court of Malaya in 1982.
As senior counsel, Ambiga has three decades of experience in a wide array of civil, commercial and corporate litigation matters. Specialising in commercial, intellectual property and industrial law matters, she has the distinction of numerous reported cases at the High Court, Court of Appeal and Federal Court.
Ambiga is often called upon to speak at local and international conferences that tap on her expertise regarding specialised areas of the law.
In March 2009, Ambiga received the US Secretary of State Award for International Women of Courage 2009. In July 2011, she was awarded an Honorary Doctorate of Laws (LLD) from the University of Exeter for her work in advancing human rights. In September 2011, Ambiga was conferred the Chevalier de Legion d'Honneur (Knight of the Legion of Honour) by the French government.
Ambiga was the president of the Malaysian Bar from March 2007 to March 2009 and continues to be an active member of the Malaysian Bar.
An illustrious career indeed!
The missing link here is politics. Like many, I hope she would reconsider her decision not to contest GE14 but let us not pressure her. Give her the time and space and trust that she knows what to do.
Ambiga is destined for a major role in helping to shape a better nation for all. And I'm confident when that time comes, she will do her job with distinction.
Dear Ambiga, may the force be with you!
---
FRANCIS PAUL SIAH heads the Movement for Change, Sarawak (MoCS) and can be reached at sirsiah@gmail.com.
The views expressed here are those of the author/contributor and do not necessarily represent the views of Malaysiakini.