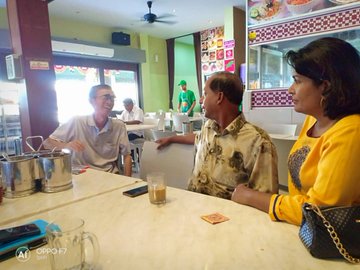 Human Resources Minister M Kulasegaran could not contain his admiration for a hard-working 61-year-old direct salesperson.
Taking to Twitter this evening, the Ipoh Barat MP posted images of his meeting with 'Ah Seng' at a restaurant where the salesperson's merchandise, which included pens, spectacles and socks, were laid out on the table.
According to the minister, the salesperson is synonymous with the Perak capital.
Commending the senior citizen for working hard to earn a living, Kulasegaran also noted how Ah Seng turned down his offer to buy him breakfast.
"Ah Seng has been a direct salesperson for more than 10 years now.
"He is doing well, chalking up to more than RM100 in sales daily. I offered to buy him breakfast but he told me he did not have time.
"These are hardworking people in the country. He supports four children successfully and walks more than 30km a day for his job which makes him medically very fit.
"There are many ways of making a living, what is your way?" he tweeted.
In his post, the DAP lawmaker also pointed out how most would not be aware that Ipoh, according to Lonely Planet, is the sixth-best Asian destination to visit.