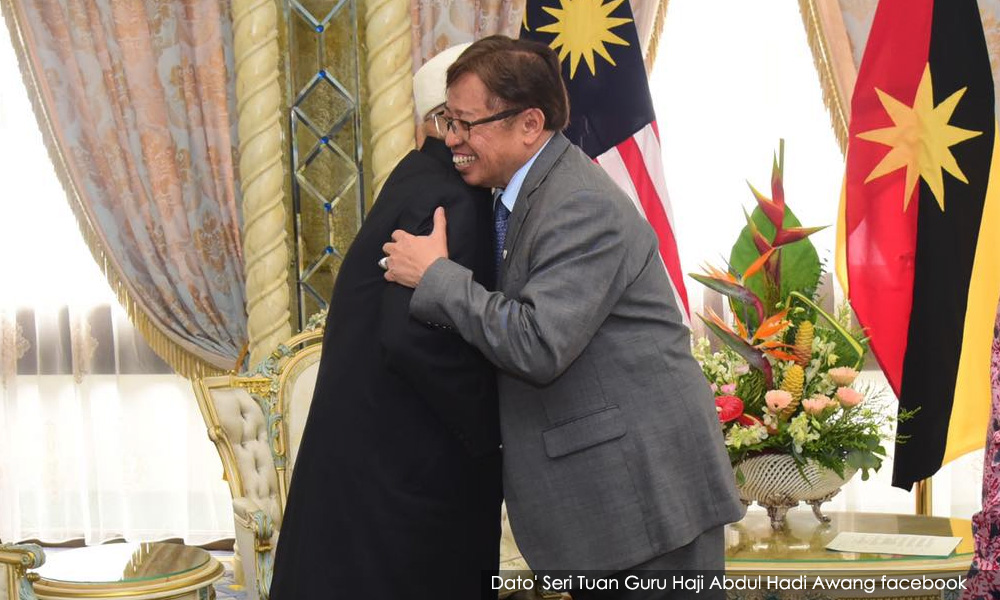 FRANCIS PAUL SIAH
COMMENT | PAS president Abdul Hadi Awang is fond of the 'bear hug' greeting. Not only does he hug, he also indulges in a face-to-face 'air-kiss' on both cheeks.
I don't think it is right for others to interpret it as something else when political opponents greet each other in that fashion.
Unfortunately, that seemed to be the case when Sarawak Chief Minister Abang Johari Openg received Hadi and a PAS delegation in his office in Kuching last week.
Photos of the PAS leader and the chief minister hugging each other were splashed all over Sarawak newspapers. Soon, that set tongues wagging.
To some, the Hadi-Abang Jo hug and the PAS-CM meeting that day was indicative of the closeness of the duo, but that could not be further from the truth.
I haven't heard the slightest inkling of a collaboration between PAS and the GPS government. PAS has minimal support in Sarawak.
Unexpectedly, Sarawak DAP went on the offensive, alleging that the Hadi-Abang Jo meeting was a sign that PBB, the lynchpin of the GPS government, has a secret pact with PAS to take on Pakatan Harapan in the next Sarawak state election, due in 2021.
The DAP statement is immature and childish. Why meet so publicly if there is anything secretive or sinister? Those involved in secret pacts would probably be meeting and scheming far away from the limelight.
But it's understandable why DAP leaders had to lash out at PBB and GPS. Hadi's racist rant against the DAP in Bintulu on Malaysia Day was still fresh in their minds.
They also needed to score political points, since the party's support base is still the urban Chinese electorate. Viewed that way, the DAP leaders thought they were merely performing a duty that was necessary.
To me, it was much ado about nothing. The chief minister receiving VIP visitors to Sarawak is normal. Courtesy calls, as the term implies, is about being courteous to visiting dignitaries.
GPS and Harapan leaders in Sarawak meet regularly too, whether at official or social events. I wouldn't read too much into such contacts.
Surely we do not want to see them landing blows on each other every time they meet, do we? I wish to see mature politics in my homeland and that means politicians from both sides must always be courteous and civil towards each other. This is one Sarawakian culture and tradition which must be nurtured.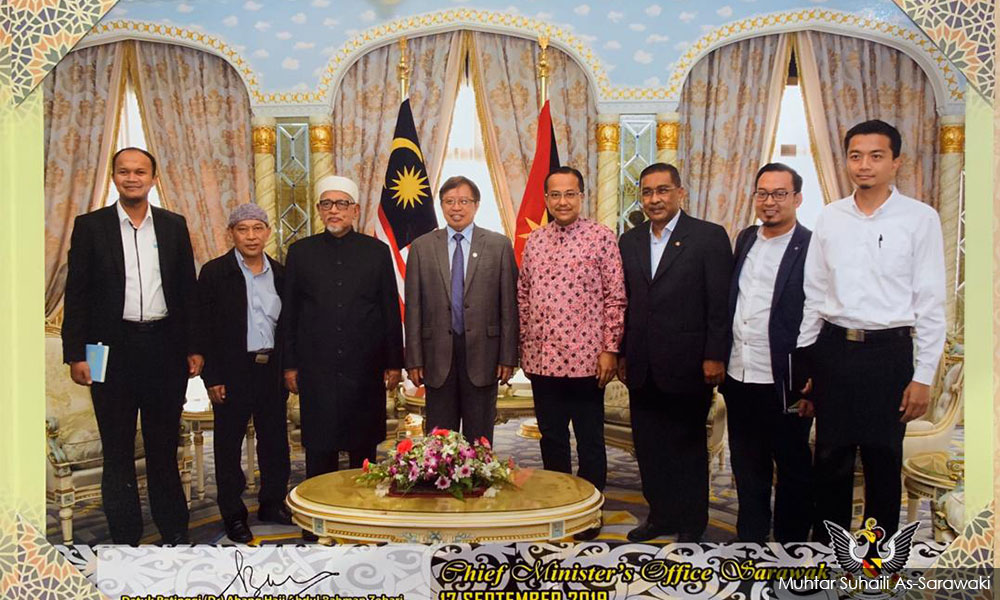 It's well and good that Abang Jo took the trouble to explain the courtesy call he granted to the PAS delegation.
Pressed by a reporter, the chief minister said he was actually receiving the Terengganu menteri besar and that "Hadi just tagged along".
"Do you expect me to tell PAS that I do not wish to receive their president when he is part of the party's delegation? That would be most discourteous of me, wouldn't it?" Abang Jo responded.
I think I know how this misunderstanding came about. Sarawakians, in general, do not know the names of PAS leaders well, apart from prominent leaders like Hadi, the late Tok Guru Nik Aziz Nik Mat and its former deputy president Mohamad Sabu, now the Amanah leader.
I concede that even I had to google the name of the Terengganu Menteri Besar – Dr Ahmad Samsuri Mokhtar (below), Hadi's former political secretary.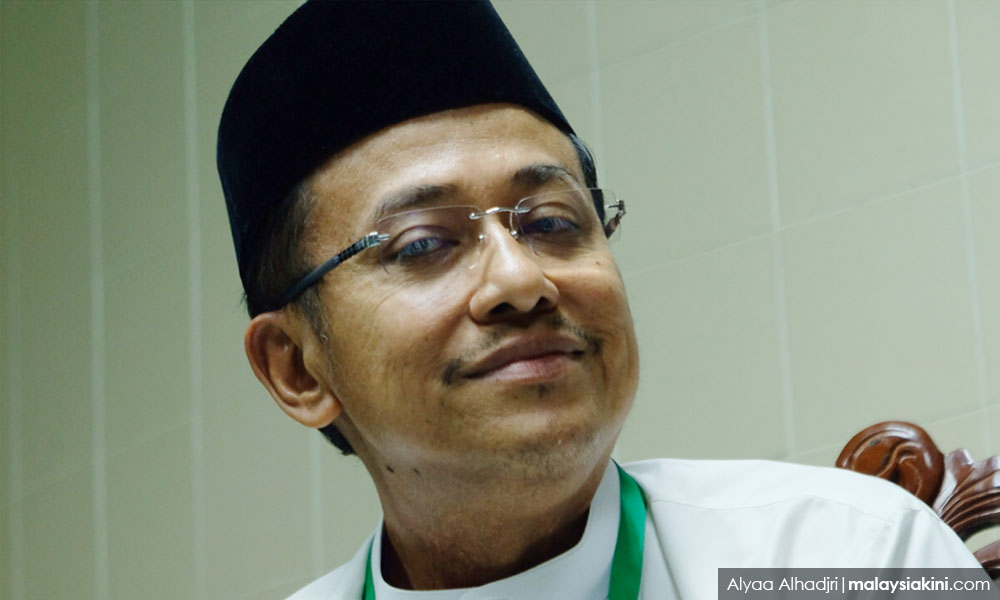 Not surprisingly, the local media did not mention the presence of the PAS menteri besar. Prominence was accorded to Hadi. This shows the little or no connection between ordinary Sarawakians and Terengganu.
Another interesting development this week is the statement from Sarawak PAS commissioner Jofri Jaraee, who said the party's interest in cooperating with GPS in the next state election is out of "concern for the fate of bumiputeras" in Sarawak.
According to Jofri, PAS has carried out its own research, which pointed to GPS not being able to win the state election on its own, hence the decision by the party to offer a helping hand.
PBB vice-president Abdul Karim Hamzah immediately poured cold water on Jofri's offer, saying, "Thanks, but no thanks, GPS is doing just fine on its own."
Karim rubbed it in by telling Jofri to get his PAS supporters in Sarawak to vote for GPS if PAS really wants to help the ruling coalition to continue governing Sarawak.
Earlier, PBB information chief Idris Buang advised Hadi that it was better for him and PAS to stay out of Sarawak affairs.
I believe Abang Jo is listening to his PBB boys, even after being warmly hugged by the PAS president.
In fact, the chief minister should take it further by barring Hadi from entering Sarawak.
We don't want a racist and extremist from Malaya roaming free and spewing venomous bigotry in our homeland.
---
FRANCIS PAUL SIAH heads the Movement for Change, Sarawak (MoCS) and can be reached at sirsiah@gmail.com
The views expressed here are those of the author/contributor and do not necessarily represent the views of Malaysiakini.